LOMAX™ Professional Series and ADARAC™ Pro Combo
FOR A LIMITED TIME, GET 20% OFF + FREE SHIPPING!
This hard tri-fold pickup cover and truck box rack were made for each other, literally! The LOMAX™ Professional Series is constructed with diamond plate panels, extruded aluminum channels and reinforced waterproof hinges to ensure strength and style are delivered. The model specific ADARAC™ Aluminum Pro Series utilizes a durable, aluminum framework to carry up to 500 lbs., evenly distributed while incorporating accessory mounting channels in the rails and cross bars. Equip your pickup for any job with this hard tri-fold tonneau cover and pickup rack combination. Be prepared for what lies ahead.
Features of the ADARAC™ Aluminum Pro Series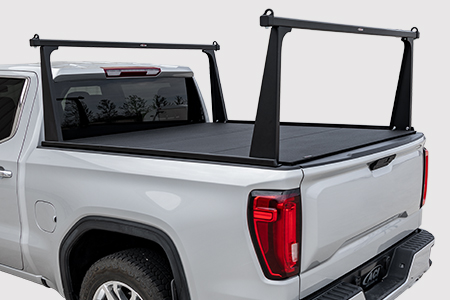 Rust Resistant Framework
Aluminum uprights with extruded anodized aluminum rails and cross bars support a maximum of 500 lbs. distributed evenly.
Height above the box rail: 24 in. for mid-size, 26 in. for full size and 27 in. for Super Duty trucks. Load dividers sit an additional 3 in. above cross bars.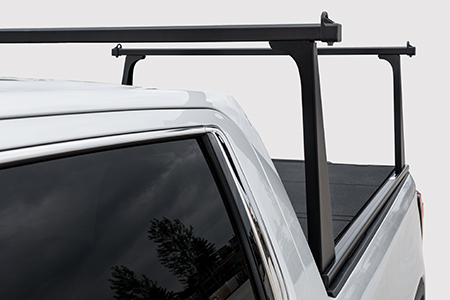 Vertical Uprights
Limited framework interference for maximum payload capacity. Simple to remove or reposition.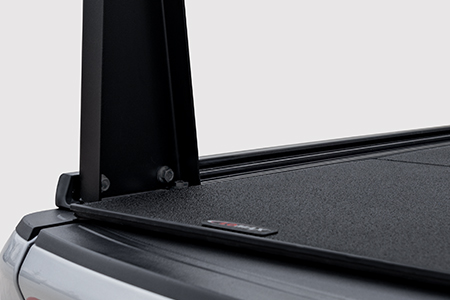 Utility Rails
Conveniently attach accessories and secure gear with integrated mounting channels. Use with or without uprights.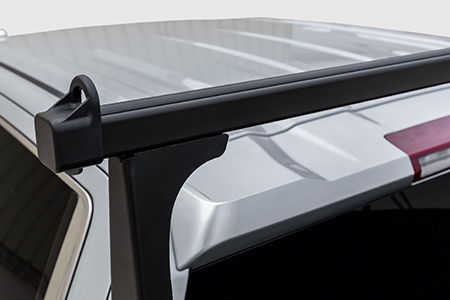 Multi-Functional Cross Bars
Easily attach accessories and secure cargo using integrated mounting channels across the top and bottom. Anti-slip, anti-vibration rubber helps stabilize cargo.
Cross bars are 72 in. L x 1 1/2 in. W x 1 1/2 in. H
Features of the LOMAX™ Professional Series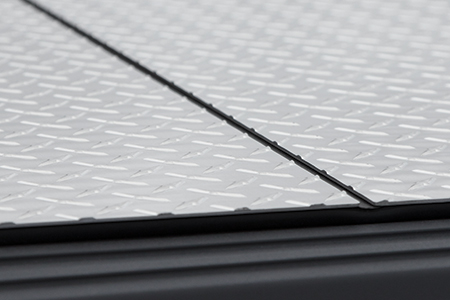 Ultra Low Profile
Add an entirely new dimension to your truck's look with the unique diamond plate finish that sits less than 1/2 inch above the truck bed.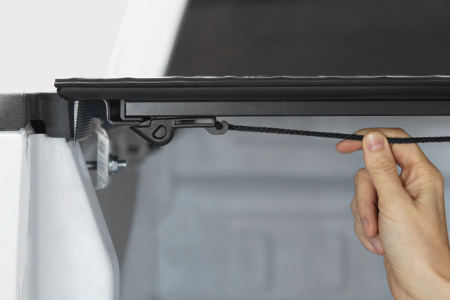 Easy to Operate
To open, release latches by pulling cord from either side; folding each panel automatically disengages locks. Secure with integrated storage clips. To close, release storage clips and use built-in handle to unfold.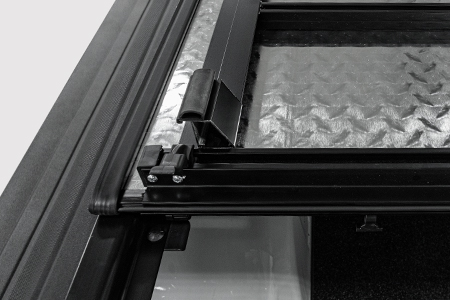 Weathertight Seal
No gutters or drains! Waterproof, reinforced vinyl coated hinges and modern design route water away from the bed. Prevents elements from entering the truck bed with a durable seal running the length of the side rails.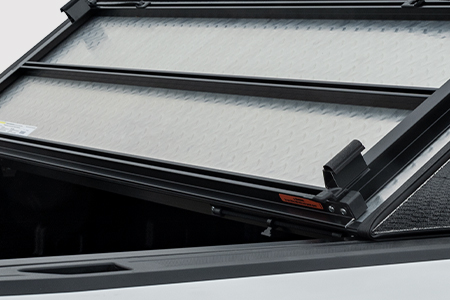 Strong Yet Lightweight
Additional aluminum channels mounted to each panel aid in supporting an evenly distributed 500 pound load. Weighs approximately 60 pounds for a high strength-to-weight ratio.
Average Customer Rating:
(3 customer reviews)
Review by: James S. - BC
By far the best cover. It is not cheap but it works great and it keeps everything dry. It is super easy to install. I would purchase this combo again.
Review by: Dave D. - MI
Great Products. Quality construction and easy to assemble.
Review by: Brian W. - NH
Awesome product, shipped quickly, arrived on time and complete and simple to install. Just love this product it's perfect for my use. Many people comment on how nice it looks and it's design features.