LOMAX™ Hard Tri-Fold Cover and ADARAC™ Pro Combo
FOR A LIMITED TIME, GET 20% OFF + FREE SHIPPING!
Look no further for stand out style! With the LOMAX™ Hard Tri-Fold Cover and ADARAC™ Aluminum Pro Series, you can dare to be different. Using lightweight, yet durable aluminum panels, this hard tri-fold truck box cover has an ultra low profile design and multiple finishes to choose from. Featuring adjustable and removable vertical uprights, the truck bed rack increases carrying capacity and can support loads up to 500 lbs. with limited framework interference. Built for strength, designed for convenience, the LOMAX™ Hard Tri-Fold Cover and ADARAC™ Aluminum Pro Series offer a simple one-person removal and reinstallation.
Features of the ADARAC™ Aluminum Pro Series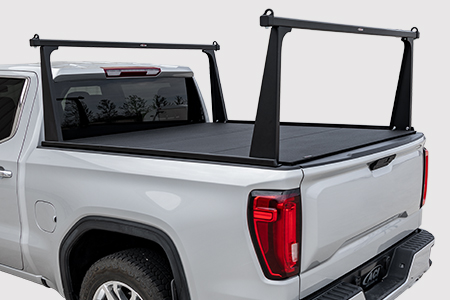 Rust Resistant Framework
Aluminum uprights connect to extruded anodized aluminum rails and cross bars to carry a max. of 500 lbs. distributed evenly.
Height above the box rail: 24 in. for mid-size, 26 in. for full size and 27 in. for Super Duty trucks. Load dividers sit an additional 3 in. above cross bars.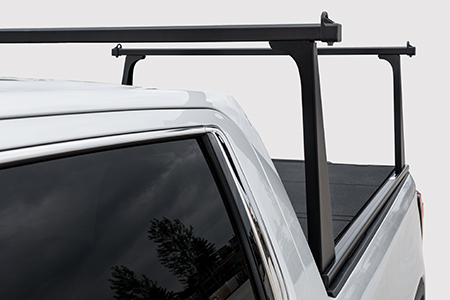 Vertical Uprights
Maximum payload capacity with limited framework interference. Remove or reposition easily.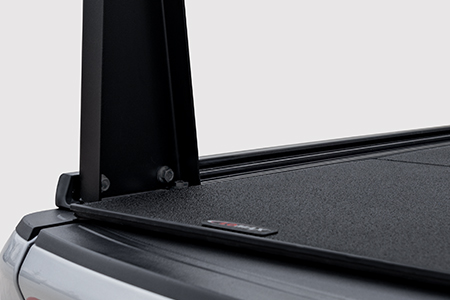 Utility Rails
Fasten cargo and attach accessories to integrated mounting channels with ease. Use with or without uprights.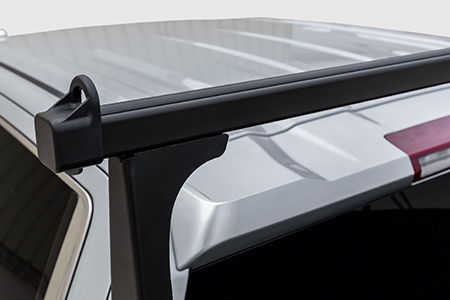 Multi-Functional Cross Bars
Easily attach accessories and secure cargo using integrated mounting channels across the top and bottom. Anti-slip, anti-vibration rubber helps stabilize cargo.
Cross bars are 72 in. L x 1 1/2 in. W x 1 1/2 in. H
Features of the LOMAX™ Hard Tri-Fold Cover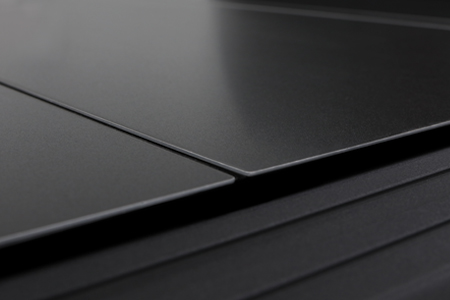 Low Profile Design
Complements your truck with a textured matte black finish and sits less than half an inch above the truck bed.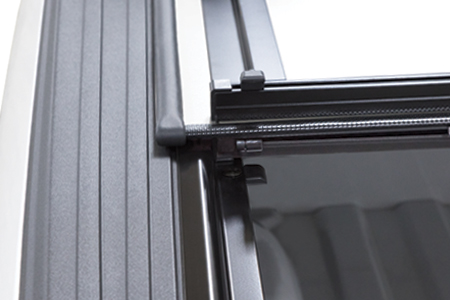 Weathertight Seal
Innovative design and reinforced vinyl coated hinges route water away from the truck bed, no need for drains or gutters. Continuous seal runs full length of the side rails, stopping dirt, dust, rain and snow from entering the truck box.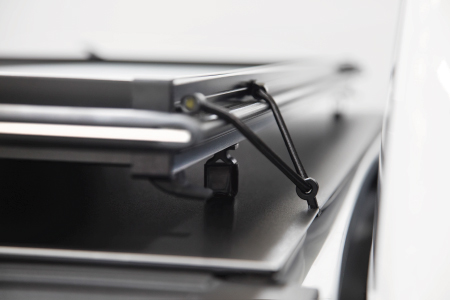 Integrated Storage Clips
Storage clips secure cover and rigid standoffs ensure panels are properly spaced in folded position. No adjusting required.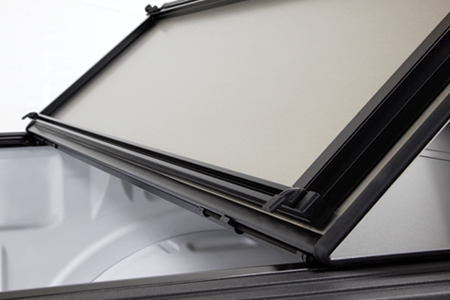 Strong Yet Lightweight
Weighs approximately 50 pounds while supporting up to 400 pounds of evenly distributed weight. Extruded aluminum channels reinforce the cover for a high strength-to-weight ratio.
Average Customer Rating:
(2 customer reviews)
Review by: Juan T. - MN
Looks great on the truck. No problems with install.
Review by: Bert P. - TN
Met my expectations and appears like it will do a good job. The cover keeps my cargo dry and the rack works great for hauling kayaks.